Jack and Sandy Young moved to the Gravenhurst area after building a home on the shore of Lake Muskoka.
Jack Young was commissioned as an Ontario Land Surveyor, Canada Lands Surveyor and Professional Engineer.   As well as private practice work in both surveying and engineering, he taught at Laurentian University and University of Toronto.
Throughout his professional life he was heavily involved in the Association of Ontario Land Surveyors as Councillor and President (1988) along with serving on numerous Committees.  He was well known for his wise and sage advice, having helped many individual surveyors throughout his career.  In 2004 he was given the Professional Recognition Award from the Association of Ontario Land Surveyors.  Jack was key to the creation and management of the Association Senate.  In recent years he acted as Parliamentarian during the Annual General Meetings and as Master of Ceremonies during the Veterans Dinner.  In the Association he was known as Past President Jack Young OLS# 1446.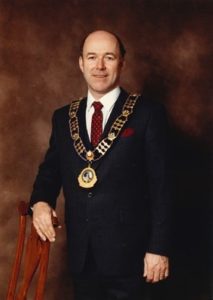 The Rotary Club of Gravenhurst was pleased to welcome him to their membership.  He contributed his time to making the club a better place to be with his subtle quips and his attention to detail in all facets of the club from volunteering to club attendance.
Probus Clubs were often sponsored by Rotary Clubs and when the Rotary Club of Gravenhurst discussed the possible formation of a social club to benefit seniors Jack stepped up and was instrumental in the formation of the Probus Club of Gravenhurst, acting as its first President and guiding it through the early years.  By 2018 it had grown to 275 members.
The classic and antique boat museum in Gravenhurst was known as Grace and Speed.  This attracted his interest because he too had an antique boat and he and Sandy loved to cruise the lakes with family and friends.  He also became an active volunteer for this venue now known as the  'Muskoka Steamships and Discovery Centre'.
Traditions were important to Jack.  He loved his old wood boat, his classic car and had a great respect for associations such as the Association of Ontario Land Surveyors formed in 1886 and the Rotary Club whose beginnings were in Chicago in 1905.  However, he embraced the new, marveling at the new innovations in surveying that developed in his time, such as digital measurement and satellite GPS location techniques.
Jack and Sandy were fortunate to be able to spend several months in Florida during the winter at the Maple Leaf Golf and Country Club.  He became active in the Maple Leaf Woodworkers Club which started shortly after the park opened.  Residents found that the tools they needed to do their DIY projects were all in their northern homes.  Sensing a need the group of 'Maple Leafer's' got together and, collectively, they donated some of their tools, got donations from park contractors and opened a shop where his love of woodworking was fostered.
Jack suffered quietly from Pulmonary Fibrosis, not looking for sympathy from friends, and passed peacefully December 2nd, 2017, surrounded by his family.
He and Sandy were strong supporters of the Rotary Bursary Endowment Fund and you are benefiting from a successful professional career and the generosity of Jack and Sandy in the creation of their Family Bursary.
They hope that you too will get a good education, embrace life, support your community and give back in ways your life allows.