Born in Toronto January 9th 1927 during the roarin' 20's and raised in the dirty 30's during times his neighbours had no jobs and people were going door to door asking for handouts. Luckily his father had a job and they had 3 meals a day. For Norm the beginning of his selling career started by selling magazines door to door and hustling two paper routes while attending Oriole Park Public School near his home on Duplex Ave. He claims he never went 5 days in a row to his high school at North Toronto Collegiate, skipping school and writing his own notes. His mother only discovered his scamming ways when she took his lunch, which he had forgotten, into the school and the Principal noted Norm must be in poor health because of the number of sick days he had. He was soon out of school with just a Grade 11 tucked under his belt. In 1945, at the age of 18 he joined the army but the war ended shortly and he was out by October 22nd 1946. The family moved after his mother purchased the old 'Moffet' Residence at 143 King St. in Weston, Ontario, for $13,000.00. He worked at Simpson's selling hats and ties before going to work for 'Peabody' known later as Arrow Shirts. He sold 'collars', an item for shirts without collars and these were big sale items in his selling territory of Newfoundland and New Brunswick. During his travels he met the love of his life, Mary E. McSheffrey, the daughter of a New Brunswick blacksmith.
When asked he would speak at length about her and her devotion to their children. He attributes their children's success to the love and caring his wife provided while he was away from home selling, often for 6 weeks at a time. He admits he didn't have a 'hobby', didn't take the children to cubs or girl guides but just worked, worked, worked. They had 5 children one of whom, as a youngster, wanted to be a garbage man. Today, a daughter in Calgary, was one of Royal Lepage's highest selling agents for all of Canada. Another became a successful teacher and former Commodore at the Mississauga Yacht Club.  Each has been successful in their own right.
Norm credits his success in part to his willingness to take a new job with more promise, even if it meant taking a reduction in pay from his present salary. He did this on several occasions. He worked in Toronto, Calgary, the Maritimes, and Newfoundland.
Norm was a member of the Toronto Eglington Rotary Club. Bob McClure, a surgeon and former moderator of the United Church of Canada started this club in his office. Norm and his wife considered him their mentor.  He became very active in the club acting as President and also Assistant District Governor on two occasions. As Assistant Governor he was responsible for organizing the successful campaign for Polio Plus at 8 clubs in their District.
Norm was instrumental in establishing the 'Bob McClure Bursary Fund' in the Toronto Eglington Club to help Doctors and Nurses trained in Canada to return to their own countries to serve their own people. Norm financially supported this initiative until the cause of this fund was changed to address other issues for which the fund was not intended. He halted his support. Norm notes that his support of the Rotary Bursary Endowment Fund is strictly based on its intent to help children's education and would feel betrayed if it changed its focus or was altered for the benefit of an alternative cause.
Norm's affiliation with Muskoka started in 1968 when he purchased a lot on Lake of Bays.  He had a Panabode cedar cottage delivered to the site, constructed on the recently finished basement and up went the cottage. For 46 years he and his family enjoyed the cottage life before selling it in 2014.
In the winter, Norm and Mary had vacationed in the Golden Acres Mobile Home Park near Dunedin. He chose this location carefully too, listening closely to the Mayor's vision for lighting and storefront improvements, more restaurants, reserve funds for the community and a higher tolerance for the gay and lesbian community.
He loved his wife dearly and was deeply saddened when she passed away August 12th 1998.
After attending Rotary Club meetings in Bracebridge, Huntsville and Gravenhurst Norm chose to move to Gravenhurst in December 2006 and joined the Rotary Club of Gravenhurst shortly thereafter because 'it was the most welcoming and active club in Muskoka'.
Norm found great company in a lady, Dorothy Liddle, who he had met 71 years ago and they enjoyed the luxury of  driving his immaculate white Cadillac around town or up to Ste. St. Marie to visit his son.  But wherever he is, Norm will be singing the praises of Rotary and the causes of Polio Plus, the Gull Lake Park Pathway or the Rotary Bursary Endowment Fund all of which he has encouraged and supported since their inceptions and for which he carries a deep passion.
In talking about the Fund he often reflects on Bob McClure's words 'Give a man a slice of bread and you feed him for a day, give him an education and you feed him for life.'
Norm's philosophy is similar…. 'Eliminate poverty by educating people".
Today, as a recipient of the Norm Rippon Family Bursary, you are benefiting from his life, his success, his continued generosity toward his community and his dedication to helping students like you fulfill a dream of a better education.
In the future we hope you remember Norm Rippon and give back to your community too!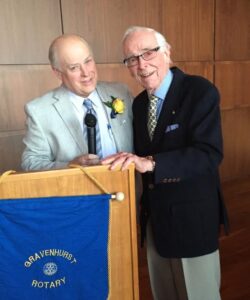 President Bruce Dart thanks Norm Rippon for his many years of service to Rotary and to the Children of the Town of Gravenhurst.