On December 21, 2008, a Temiskaming Lodge resident Terence Haight died. He was born to John Haight and Helen Kerby on November 5, 1920 in Peterborough and was survived by his brother, Father Neil Haight, OMT, of Labrador City, Newfoundland. He was predeceased by his wife Audrey McDonald. The funeral was arranged by Perrin Funeral Chapel in New Liskeard with the service conducted at Our Mother of Perpetual Help Church by Father John Lemire on December 23.
Everyone agreed…..to the people of his town Terence lived as a pauper, driving an old rusty truck and was seen in his last years going about town on his electric scooter. Father John Lemire knew Terence Haight for 13 years and served as Terence's Pastor at 'Our Mother of Perpetual Help Parish' in New Liskeard. Father John described Terence as being 'very faithful to the church and the parish.' 'He was a very private person'. Although he helped many causes in the community he did not seek attention, but rather donated in a quiet charitable manner. He was said to be very methodical, very unassuming, very frugal, with a no nonsense approach and yet very generous. He supported his church, missionary work, the local food bank and the 'Tri Town Foundation'. He was very much a community minded person often sitting on his porch and waving hello to the passing neighbours. What his friends and neighbours did not know was he had invested in mining stocks and done very well.
His donations to the 'Tri Town Foundation' were an example of his support of an organization with an enduring quality. Terence never had children but he supported missionary work that benefitted children and he provided aid to the Food Bank for needy families.
To everyone's surprise he bequeathed over one million dollars to the Town of Gravenhurst.
'Terence Haight was a leader and a visionary and would rather have seen his lifetime savings used for a long term vision rather than just providing a short term solution' said Father John. Father John was hopeful Terence's gift would be used in a manner reflecting the values Terence Haight held throughout his life.
What were those values?
We can glean some sense of those values and his intentions, when you understand the charities he valued.
He helped his church 'Our Mother of Perpetual Help Parish' and Terence remembered them in his will.
He donated though a foundation to the purchase of a 'Cat Scan' for the hospital. He supported missionary work benefitting children. He donated to a Fund supporting food programs for needy families. A fund that only spent the interest. It was to be in perpetuity.
Most importantly he contributed to the 'Tri City Community Foundation', since renamed the 'Timiskaming Foundation'. He donated to the 'Foundation Development Fund' within that Foundation. Some years he was the only person that donated to the Foundations Development Fund. He obviously placed a great deal of value in a fund that would benefit the community in perpetuity. The underlying theme is long lasting and 'Perpetual Help'
Why Gravenhurst? What could his motives have been? We do know his wife was Audrey McDonald grew up at 22 David St. East in Gravernhurst, the daughter of John McDonald, a lumberman.
In recognition of his values, in June of 2012, the Council for the Town of Gravenhurst donated $100,000.00 to the Rotary Bursary Endowment Fund to provide bursaries in perpetuity. An anonymous couple matched this amount.
On behalf of Terence Haight, we hope that you will have success in your endeavours and one day in the future, remember Terence Haight and the importance of giving back to your community.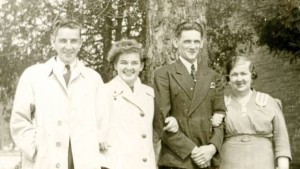 Terence Haight was a Baker and Hardware Merchant.
Shown here (third from left) with friends