Leonard Ross Franklin, known to all as 'Ross', was born January 12th 1924 at Clear Creek in Norfork County near Point Rowan. His parents owned a country store for several years before buying their first farm. His parents chose to grow tobacco, a popular and profitable crop in it's day.  Their success led them to acquired two more farms and through hard work and good management his father retired at age fifty.  As a teenager, Ross managed the farms during the time his parents vacationed in Florida. He attended High School in Port Dover and finished Grade 13 at Simcoe High School where he met his wife Betty.
Ross signed up to serve his country during World War II. He would become a Commissioned Officer, a flight lieutenant in the R.C.A.F in 1943 and served a tour and a half of duty in the R.A.F with the Lancaster Bomber Squadron in 1944 and 1945.
The Government of Canada offered returning veterans the opportunity to attend university, if they qualified, by paying their tuition.  When Ross returned he attended the University of Toronto and then went to Osgood Hall Law School with many other returning young men.   Unfortunately, he did not make the cut after the first year as over 100 students were dropped from the programme.    What was a drawback for some was an incentive for Ross!
Ross became a successful and respected business man.  He had been fortunate is his life and decided to give back to his community joining a nearby service club, the Kinsman Club of Simcoe, in 1947 and served on the Board of Directors. Their fundraising efforts raised over $75,000.00 for the Norfolk General Hospital. He was a representative for the Imperial Life Company with an office in Simcoe in 1948 before moving to the Kingston office for 2 years.  While in Kingston he served as the Chair of the fundraising committee and Kiwanis Trade Show.  He was transferred to Toronto working at the corner of Richmond and Victoria Streets, as the branch manager of Imperial Life, but he had spare time and decided to work two jobs, one as accountant for 'Houghton's Silver Plating Co.' during the early morning and the insurance company during the day. He became part owner of 'Houghton's' and after a disasterous fire the property was sold to Ryerson College.
He was the President of the North Toronto Kiwanis club in 2003 and recognized as a life member of Kiwanis Internationa. As a member of Sick Children's Hospital Committee he pushed for the manatory use of Bike Helmets. He was the Founding Chair of the Metro Toronto Kiwanis Council organized in 1986 and promoted the Eradication of Iodine Deficiency Disorders. This council raised a total of $900,000.00 which was donated to the Metro Toronto Mentally Retarded Association and the Sick Children's Hospital's Injury Prevention Program. He also sat on the Board of Directors of Transition House, a half way home, in Toronto from 1977 to 1982.
Ross loved his job and when asked what he expected to be doing at age 80 Ross replied, 'I want to be like Harry Hunt.'  ( an 85 year old man still coming to his insurance office each day)
Ross was a saver, a hard worker, keen member and supporter of service clubs, an avid bridge ( player becoming an A.C.B.L. life master), loved boating with his 26' cruiser parked beside the Segwun, and the pleasure of the cottage on Pine Lake in Gravenhurst once owned by his wife's parents.
He joined the Rotary Club of Gravenhurst in 2006 shortly after moving here permanently.  He was diagnosed with a form of dementia in 2010 and, unfortunately, deteriorated very quickly and died peacefully April 10th 2013.
Betty Franklin, was born in the Town of Simcoe where she attended Public School and High School.
Her father had graduated from the Ontario College of Agriculture and was hired by the province to teach young farmers how to manage and farm with the new techniques of the day. Her father was able to attend a university because his father had died of T.B. when he was 6 months old and his widowed mother, from the sale of a small farm, saved the money for her son's education.
Betty's grandmother lived the balance of her life on a very meager income after sacrificing her windfall on the education of her son.   She had two noteable qualities. She had always been very frugal and very faithful to her church.  Even as an aging adult living with her son, she would take the $20.00 pension she received and place $2.00 in 4 envelopes for the weekly church services that month and kept only $12.00 for herself.
During World War II Betty also served the war effort as part of the 'Women's Army Corp" for 2 years and was trained as a secretary. Betty also took advantage of the opportunity for those helping in the war effort to attend university and went to the University of Toronto and studied 'Physical and Health Education'.
She married Ross soon after university and travelled with her husband to Kingston and while there she took a course in Philosophy at Queen's University. When her husband was transferred to Toronto she went back to the University of Toronto to study courses in Social Work.   Studying at university would not only provide Betty with a job opportunity but she enjoyed and valued her studies.
Ross and Betty had five sons and lived initially in North Toronto on Glenveiw Ave beside the Glenview Ave. Presbyterian Church. They would move in 1950 to south Rosedale and Ross's parents helped them buy a home for $29,000.00.   (Fourteen years later they sold the home for $89,000. 00 and the new owners sold it 20 years later for $1,300,000.)  From Rosedale they moved to an apartment and then to a townhouse on Woburn Ave.  Betty, who was very athletic, enjoyed the opportunity at this time to teach a 'Gym and Swim' class at Northern Collegiate near Mount Pleasant Ave. in Toronto.
A home in Caledon East was next and it was here Betty became an avid gardener and tennis player. For the next 20 years they lived in a Viceroy home on a 2 acre lot in East Caledon.
Betty loved to learn, she was curious and enjoyed learning about people and what made them 'tick'. At the age of 50 when the children had grown and left the nest she returned to study Social Work at Seneca College for two years and graduated with First Class Honours. She went to work as a Social Worker at the North York Seniors Centre at Yonge and Empress Streets and became a program co-ordinator. She had volunteered for years in a nursery school for multi- handicapped children at the St. George United Church and she found it surprising that someone was now paying her to work.  What a change from the days when others around her were paid and she was not.
The fugality of Betty's grandmother and the business savey of Ross's father were influencial. Betty and Ross had learned the importance of saving and managing their finances and it had paid dividends. It made the decision to retire easier.
Moving to Gravenhurst in 2006 Betty immersed herself in the community, joining the United Church and becoming their secretary so she would come to know more people. She joined the Hospital Bridge group, played bridge at the senior's centre, volunteered at the Literacy Society, played piano at a fund raising amateur night, sang in the Elderberry Choir and took part in Horticulture Society meetings.
Ross and Betty's history of giving is reflected in a substantial Bursary established by their charitable contribution to the Rotary Bursary Endowment Fund. Ross had been an active member of the Rotary Club of Gravenhurst and following the impairment of Ross's memory Betty continues their legacy of giving back. Ross and Betty understood the importance an education made to them. They knew how important it was to have an 'opportunity' and for them it came from the government after the war, his family in the early years of their marriage, sacrifices by her grandmother, and a cottage in Muskoka.
Betty and Ross's wish for you is that you will also reap the fruits of your time, efforts, education and savings.  Hoping you remember your community when you find yourself in a position to 'give back'.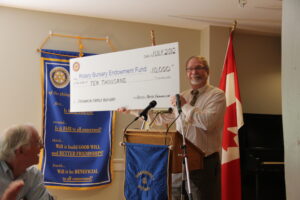 The First Donation from the Franklin Family.